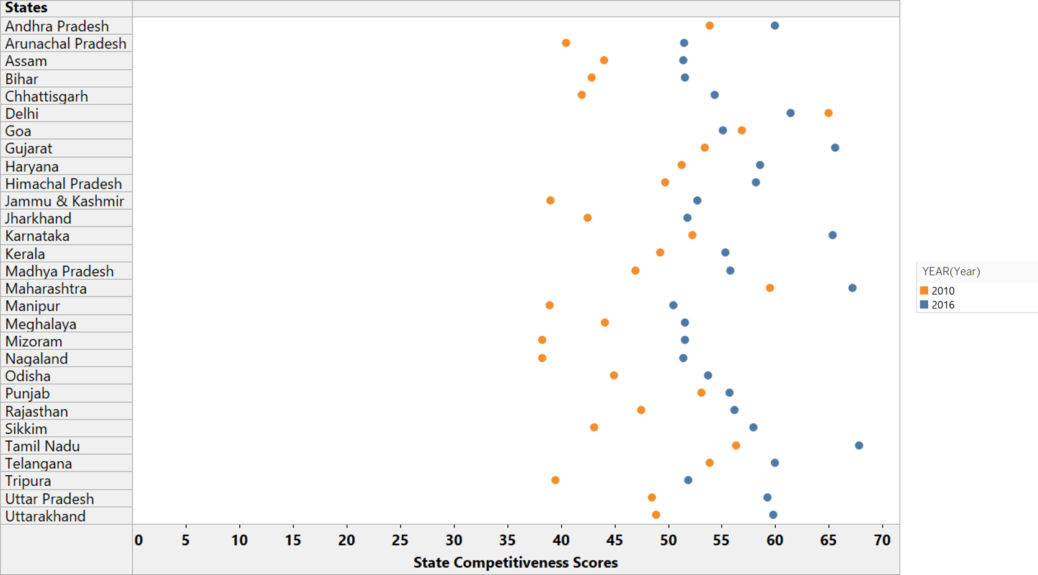 The change in competitiveness scores of Indian States over the years is shown above.
Source: State Competitiveness Reports
Related Articles
, , Static, 0

---

The stock market bloodbath on Tuesday was sparked by no major event but merely market expectations of a rise...

, , Static, 0

---

The depiction shows how the web-usage varies across different mobile phone brands and different operating systems. India is among the...

, , Static, 0

---

The above graph shows that the market cap of HDFC Bank alone is greater than the combined market cap...

, , Static, 0

---

The above depiction shows how Social Progress Scores of Indian States have changed over the years. Source: Social...

, , Static, 0

---

Air pollution DALY's are high in low and middle-income states compared to high income states. This can be explained...

, , Static, 0

---

Based on the trend displayed in the graph above, it is evident that there is a stark difference in...

, , Static, 0

---

Socio-economic conditions such as illiteracy, prevent the participation of women into running for public office, and even voting. An...