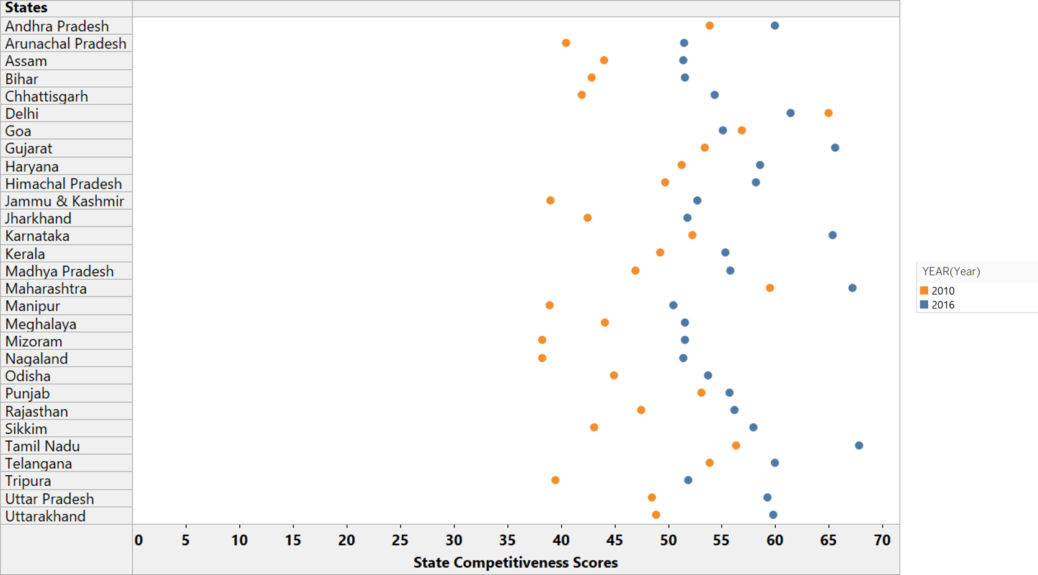 The change in competitiveness scores of Indian States over the years is shown above.
Source: State Competitiveness Reports
Related Articles
, , Static, 0

---

The strength of a region's cluster portfolio is measured by summing up the performance across its individual clusters. A positive relationship between...

, , Static, 0

---

Depicting the outward FDI (USD mn) flow from India for December 2017, the graph shows that Singapore has been...

, , Static, 0

---

The stock market bloodbath on Tuesday was sparked by no major event but merely market expectations of a rise...

, , Static, 0

---

The above depiction shows how Social Progress Scores of Indian States have changed over the years. Source: Social...

, , Static, 0

---

The above scorecard represents the holistic status of India's social progress in 2018. Source: Social Progress Imperative

, , Static, 0

---

The graph represents how well Indian markets are attracting foreign venture capitalists across various sectors. It is clear from...

, , Static, 0

---

The graph illustrates the comparison between foreign aid that has been received in the form of loans and grants...