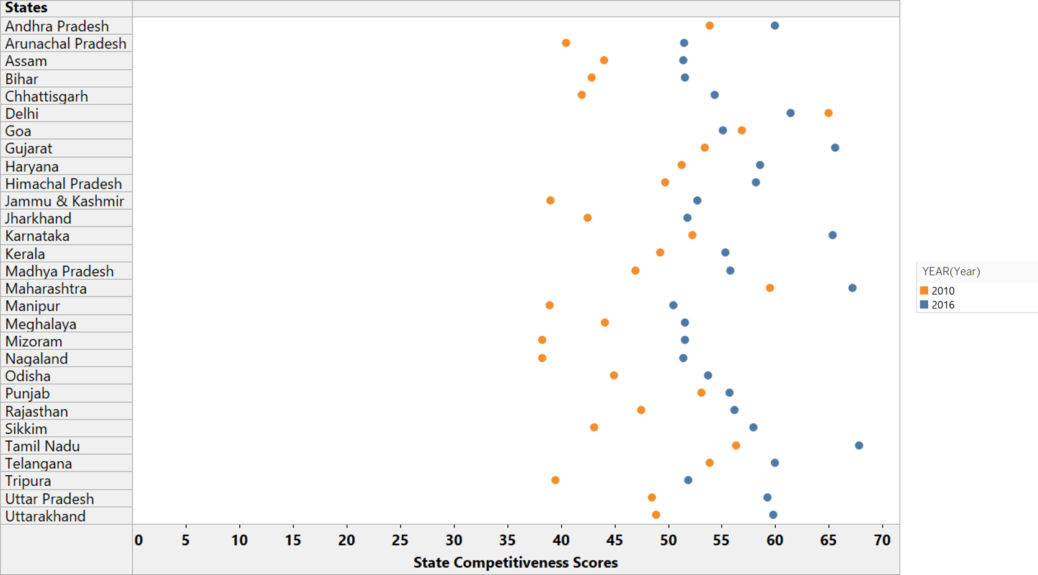 The change in competitiveness scores of Indian States over the years is shown above.
Source: State Competitiveness Reports
Related Articles
, , Static, 0

---

Air pollution DALY's are high in low and middle-income states compared to high income states. This can be explained...

, , Static, 0

---

The depiction shows how the web-usage varies across different mobile phone brands and different operating systems. India is among the...

, , Static, 0

---

There is a lot of evidence to suggest that clusters provide environment conducive to innovation and knowledge creation. This trend...

, , Static, 0

---

The graph represents the growth of e-Transactions in India from 2014 to 2018. The tremendous rise in digital transactions...

, , Static, 0

---

The estimated budget presented by Finance Minister Arun Jaitley for 2018-19 was quite rural focused. The absolute value for expenditure...

, , Static, 0

---

The above depiction shows how Social Progress Scores of Indian States have changed over the years. Source: Social...

, , Static, 0

---

Key-logging or keyboard capturing, is the action of recording (logging) the keys struck on a keyboard, typically covertly, so that the person...